The Everest Base Camp Trek is the most popular trek in the Nepal region and one of the most iconic and well-known treks in the world.
After a nerve-racking flight into Lukla airport that is sure to get you pumped up, you will retrace the footsteps of Sir Edmund Hillary, Tenzing Norgay and the countless other brave men and women who have summited Everest after them.
The route takes you through the beautiful Sagarmatha National Park and eventually ends up at Everest Base Camp, where you will feel the buzz and excitement of potential summiteers of the world's tallest mountain (the main climbing season kicks off in April and culminates in the 3rd or 4th week of May).
Popular questions asked about the Everest Base Camp Trek always seems to follow the similar pattern of 'how hard?', 'how long?' and 'how high?'.
This article will cover the raw data behind the trek to answer all those burning question about distance, length and elevation.
To get a better understanding of how challenging the trek is, read our in-depth article on the difficulty of the Everest Base Camp Trek.
EBC Trek
Distance
The classic Everest Base Camp trek from Lukla to EBC and back is 130km long – 65km each way – which may sound like a lot of trekking!
Fear not, because the typical round trip to Everest Base Camp takes around 12 days, the actual distance you will be covering each day will be about 15km – a much more reasonable and achievable number.
Furthermore, the average walking pace is about 5km/hour, so 15km per day does not sound too bad anymore.
Obviously, you will not be trekking at that pace because of the rocky terrain, gradual ascent and high altitude gains that have to be made.
The point being made is that the distance is very attainable for all people of all ages, shapes and sizes!
If you book through a tour operator, you will likely have the luxury of having your large bags carried for you by porters or by yak / mules. This should further take the strain off your body and allow you to focus on getting yourself safely up and back down the trail.
EBC Trek
Length
The typical length, in terms of time, of the Everest Base Camp trek is around 12 days. There are variations of standard route, like Jiri to Everest Base Camp and Gokyo Lakes trek, which take longer.
The outward route from Lukla to Everest Base Camp is significantly longer, in terms of time, than the return route to allow for proper acclimatization and to minimize the risks of Acute Mountain Sickness and related illnesses.
It should take around 9 days of trekking to reach base camp and just 3 days to return to Lukla.
To get a better idea of the distances and day-by-day break down of the typical Everest Base Camp Trek we have posted a sample itinerary below:
Day 1: Arrive in Kathmandu where you will spend the night.
Day 2: Fly from Kathmandu to Lukla, then walk to Phakding – 9 km (4 hours)
Day 3: Trek from Phakding to Namchee Bazaar – 12 km (6 hours)
Day 4: Acclimatization day. No walking except maybe a quick hike up to the Everest View Hotel.
Day 5: Trek from Namchee Bazaar to Tengboche – 10 km (6 hours)
Day 6: Hike from Tengboche to Dingboche – 12 km (6 hours)
Day 7: Acclimatization day in Dingboche. Explore the area.
Day 8: Trek from Dingboche to Lobuche – 12 km (7 hours)
Day 9: Hike from Lobuche to Gorak Shep to EBC and back to Gorak Shep – 15 km (8 hours)
Day 10: Hike from Gorak Shep up Kala Pathar and then to Pheriche – 13 km (7 hours)
Day 11: Trek from Pheriche back to Namchee Bazaar – 14 km (8 hours)
Day 12: Hike from Namchee Bazaar to the airstrip at Lukla – 15 km (8 hours)
Day 13: Fly back to Kathmandu
Day 14: Leave Kathmandu
EBC Trek
Elevation
The most challenging element of the trek is probably elevation. Even at the start of the trek at Lukla airport you will be at an altitude of over 2,600m. As most people's bodies are not used to these altitudes, the trek involves acclimatization days and the ascent to Everest Base Camp will occur at a much slower pace than the descent to allow for acclimatization and to ensure safety.
Typical elevation gains will be in the range of 400-800m each day. Days when the gain is large and the altitude is significantly high will usually be followed by an acclimatization day that doubles up as time for some sightseeing and exploration of the surrounding areas.
Here is an Everest Base Camp trek elevation and altitude profile for the standard trek.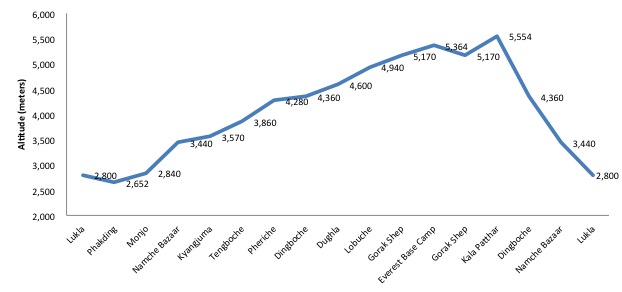 The highest point on most Everest Base Camp Treks tends to be the Kala Patthar viewing point where you will be blessed with some of the best views of Everest and the nearby peaks. Kala Patthar stands at just over 5500m, but not too much time is spent at that altitude as the trek then descends back down to Pheriche and eventually back to Lukla Airport.
Hopefully these facts and figures have convinced you set out on your own trek to Everest Base Camp – if so, happy trekking!
Tags: Everest Base Camp Trek Distance, How long is the Everest Base Camp Trek? Length of the Everest Base Camp trek, Everest Base Camp trek altitude, Everest Base Camp Trek elevation