Although not a nice topic to think about, the good news is that deaths on the Everest Base Camp Trek are relatively rare!
This is certainly true when compared to summiting or attempting to summit Everest. In comparison to climbing Everest, the Everest Base Camp Trek is extremely safe.
The majority of deaths reported on Everest each year are of climbers and Sherpas who have to deal with much greater altitude, more adverse weather conditions and a greater risk of fatal falls than those who are trekking to Everest Base Camp.
That being said, the Everest Base Camp Trek still poses a variety of risks because of its location and altitude.

Also available directly from TYTN Gear
Being situated at the base of the tallest mountain in the world means that trekkers can succumb to altitude sickness.
Moreover, Everest Base Camp itself is susceptible to avalanches such as the devastating avalanche of 2015 that claimed the lives of 19 climbers.
While statistics are readily available for deaths of people climbing Mount Everest, there are no official statistics for deaths that occur during Base Camp treks and related routes.
On the low end we estimate that around 3-5 people die each year on the Everest Base Camp Trek. On the high end this number could be as high as 12-15. These numbers are estimates but out of roughly 30,000 people who do the trek yearly, this is a death rate of about 0.03%.

EBC Trek
Recent Deaths
Of the few deaths that may occur each year, most of them are as a result of altitude related illnesses or underlying conditions, like heart disease, that have been exacerbated by the high altitude. While you are not actually climbing Everest, you may reach altitudes as high as 5,600m, which is higher than most mountains in the world.
Proper acclimatization is essential, but we will speak more of preventative measures later in the article.
Because most Everest Base Camp Trek deaths are not reported in the news, it is hard to accurately determine the cause of deaths on the trek.
Moreover, there are a number of route variations to Everest Base Camp, like the Three Passes Trek, Jiri Trek and Gokyo Lakes Trek, that all involve a little more risk as they encounter glaciers, rock falls and high passes. These are risks not faced on the classic Everest Base Camp Trek.

Also available directly from TYTN Gear
EBC Trek Deaths
Common Causes
Almost all trekking deaths in the Everest region are altitude related. Acute Mountain Sickness and similar conditions like High Altitude Cerebral Oedema and Pulmonary Oedema are all caused by ascending too high, too fast.
When symptoms of altitude sickness are detected, your guide should advise you to remain where you are or descend to lower altitude. It is imperative that you follow the instructions of the guides as most deaths occur when people try to carry on ascending and only turn back when it's too late.
Altitude sickness can come on incredibly quickly. If you or someone in your group finds themselves incapacitated due to altitude sickness you will need to arrange an immediate helicopter evacuation. The good news is that the Everest region is well-equipped with many helicopter operators. But the cost for a heli-evac is non-trivial (around $2500-$5000) for a helicopter pick up and drop off in Lukla.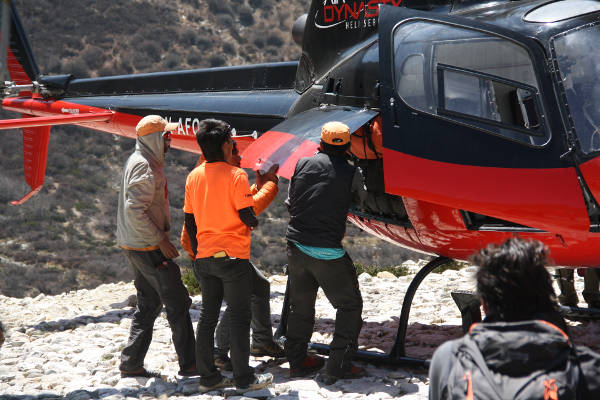 Underlying conditions can also come to the fore as a result of the altitude. There have been a number of reported cases of people dying from heart conditions during the trek. We recommend consulting your doctor before you embark so that he can inform you of any hereditary or underlying conditions you may have.
EBC Trek Deaths
Preventative Measures
Before embarking on any trek in the Everest region, make sure you know the difficulty and various risks the trek may pose.
Know your abilities and physical limitations by choosing a trek that is tailored to them. Many treks like the Three Passes trek and trekking up various peaks will have different difficulties and risks that come along with them.
In general, the Everest Base Camp Trek is very safe and doable for everyone. With a bit of preparation, correct gear and adequate acclimatization the trek should pose very little risk at all. It is very popular so the trails tend to be wide and smooth and support is more readily available.
Complacency is never a good trait to have when entering any high altitude region, so we have compiled a list of preventative measures that will ensure a safe and enjoyable trek.
Do your research and stick to a trek that is suitable to your experience and fitness level
Give yourself time to adequately prepare and train for the trek
Trek in a group rather than going solo as you will have more support and the knowledge of a guide
Choose a trekking company that has a track record for safety and can clearly articulate their safety procedures
Choose a trek that follows a gradual ascent profile
Don't feel pressured to ascend quickly (usually 12 or more days is a good duration for an Everest Base Camp Trek)
Go see your doctor before the trek to ensure you are not putting your body at risk
Read up on the symptoms of altitude sickness and allow time for acclimatization in your itinerary
Keep well hydrated, especially at higher altitudes as dehydration can only worsen symptoms of altitude sickness
Be wary of uncooked foods as hygiene standards in Nepal are not world class
Keep an eye out for yaks as they have been known to push people off the trail!
Make sure you have adequate high altitude trekking insurance that includes helicopter rescue
The Everest Base Camp Trek is a well-established, safe trek that poses little risk to the average trekker who follows all the preventative guidelines. A bit of preparation will ensure you have a safe trek through one of the most beautiful regions in the world.
Tags: How many people die on the Everest Base Camp trek annually, Deaths on Everest Base Camp Trek, Everest Base Camp Trek Deaths